!! Attention
We ACN are not going to place any restrictions on climbers' activities in Cambodia. Due to unique situations of Cambodia, however, we cannot share our climbing information without giving precautions. If you want to climb in Cambodia, please click the links below and read, understand and agree with what is written there.
   :
Do's and Don'ts while using crags
   :
climbers' code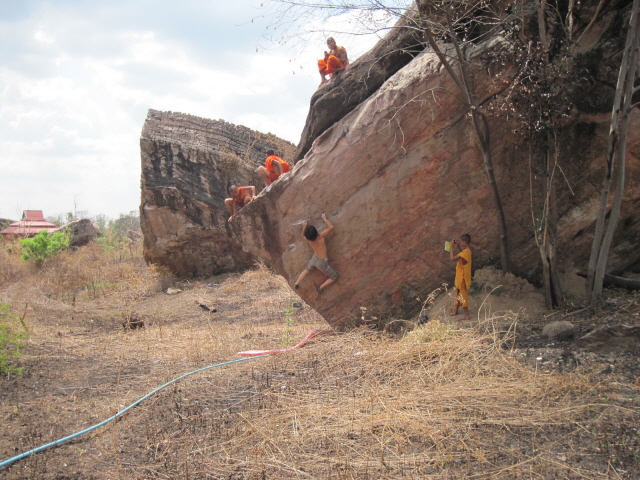 Suggestions and Precautions
climbing experience
Even bolted, climbing routes are not totally safe because of the climate, rock quality, and other reasons. Beginners and climbers with little experience should be accompanied by more experienced climbers who can make a sensible judgment on the approaches, climbing routes, gear in-situ, and the surrounding environments.
climbing season
Crags are climbable throughout the year, but the dry season is more comfortable (November through February) than the rainy season. Even during the rainy season, it seldom rains all day. Be careful about the intense sun. Try to find the routes in the shade. It might be wise to climb early in the morning or late evening. Please be aware that crags available right now are very far from resort areas.
gear
We recommend using a 60 meter rope, although you can climb some routes with a 50 meter rope. 15 quickdraws will be sufficient to climb most routes. Two sets of cams and some nuts will be nice. In Kampot, #4 size or bigger cams will be useful. Bring many slings with you. Most of the crags are gridstone, granite, or limestone. For more detailed information, please refer to the specific crag information page. Climbing gear is not available for purchase in Cambodia. You will have to bring in all you need with you. Only packs can be purchased in Cambodia. Also you might find some bags which can be used as a chalk bag.
threats
Major threats for the climbers include:
Sunlight, landmines, blind shell(duds), mosquitoes, ants, scorpions, tarantulas, bees, snakes, dogs, wild animals(tigers and elephants), poisonous plants, remnants of Khmer Rouge, drunkards
accidents
If you or your friend have a climbing accident, you will have to at least come down to the flat terrain by yourself. Self rescue, emergency medical skill, and first aid are important.
International rescue services
using a helicopters or airplane to transport the injured to a hospital are available, but very expensive. We strongly recommend that you buy a climbing insurance in advance.
permits
Currently no crags require public or private permits for entry. Permits might become necessary in the future, though.
hints for how to behave at crags
If you arrive at a crag, and start preparing for climbing, local people will come out to see it. As soon as you start climbing, more people will gather and stare at you. The most important thing that you should remember is you are an outsider having fun at your discretion. Also, Cambodian children tend to show strong interest in climbing, and might want to climb rocks with you, but don't be too easygoing on this point. You will need to provide the gear, and if anything happens to the child, you will be held responsible. ACN is thinking about providing climbing lessons for children.Join your palms together and give greetings to the onlookers, including children. Keep smiling, and pass water and snacks around to them.
Climbers should be careful not to dehydrate. Drink water constantly. You can buy water bottles anywhere. Stay in a shade, if you can. Seal the bag of the food completely, and hang it from a tree and never leave it on the ground. If you do so, ants will swarm over. If you want to take a walk, stay on the trail, because there might be landmines in the not-trodden area. Even if you want to go to a toilet, don't walk around carelessly. Stay away from bushes. Some plants are poisonous, and some have thorns. Beware of poisonous snakes, scorpions and bees. Mosquitoes transmit malaria and dengue fever, so use repellent. Village people who are drunk, although rarely seen, are dangerous. One time, our rope was nearly chopped by such a drunkard with a sickle. To deal with such a person, talk to the village people and bring his wife to the scene. We heard that some Westerners were killed by the remnants of Khmer Rouge in Kampot in 2005. We don't know the details of the incident. If you go to an area where there is an alert for wild animals, you might encounter tigers, elephants or wild cats. We have not heard about issuance of any such warning for the areas already developed for climbing.
●Crag Informations
.